HarukaKou's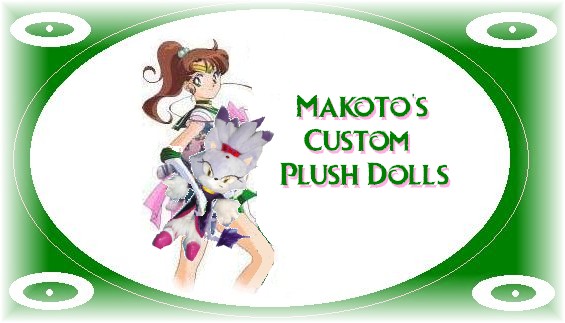 ~~~~~~~~~~~
****Please note: You are paying ONLY for our time and labor for the plush dolls, not the actual character, and these are intended for personal home use only. E.A.B.****
To view samples of our work click on the links below. Please keep in mind that as these are HANDMADE items, each plush is unique and will vary slightly from the samples shown.
All plush dolls made with velboas, robe velours, velvets, fleece, suedes, & fur materials!! Soft and huggable!!
Anime/Non Anime Categories:
Brian Froud's World of Fairies
Buzz Lightyear of Star Command
J-Rock/J-Pop Portrait Plushies
The Little Mermaid (Anime)
The Melancholy of Suzumiya Haruhi
Mermaid Melody Pichi Pichi Pitch
Neuro - Supernatural Detective
NeverWinter Nights-Hordes of the Underdark
????????? Unknown Plushies (please help identify)
If you see anything here or just want to special order a UFO catcher/Plush doll, just click on order and send me your requests!
*****We reserve the right to refuse any order.*****
~~~~~~~~~~~~~~~~~~~~~~~~
All four inch plush dolls/keychains will be made as they are in Japan, with "SEWN TOGETHER" tufted legs.
~~~~~~~~~~~~~~~~~~~~~~~~


All Title Banners on each page, courtesy of the talented Zpiffy. Please visit her website for more information. ^_^