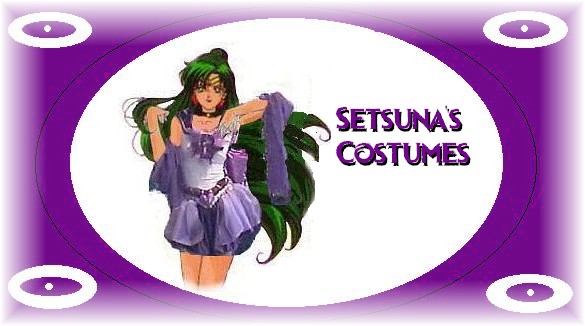 Setsuna is an expert seamstress and just loves to sew! Let her create a costume for you, including all the accessories you need to be a perfect cosplayer, even real boots!
All different Anime or non anime costumes are available too!!
~~~~~~~~~~~~~~~~~~~~~~~~~~~~~~
****Please note: You are paying ONLY for our time and labor for the costumes and/or accessories, NOT the actual character, and these are intended for personal use only. E.A.B.****
Please click on the links below to the costume sections you'd like to see!
~~~~~~~~~~~~~~~~~~~~~~~~~~~~~~~~~~~~
Anime Wigs
(Many more wigs sold separately also shown/available on each costume page above)
~~~~~~~~~~~~~~~~~~~~~~~~~~~~~~~~~~~~
Any costume can be made! Just request it! All prices for costumes are for regular sizes. Plus sized costumes & RUSH order costumes are extra cost. Thank you for your understanding.
*****We reserve the right to refuse any order.*****
Please click HERE to view Cosplayer Comments. Updated 1/09.

Please click on Susan to return to the Main Menu

All Title Banners on each page, courtesy of the talented Zpiffy. Please visit her website for more information. ^_^