Neo Sailor Star Oberon 11" Japan Doll
Pretty Soldier Sailor Moon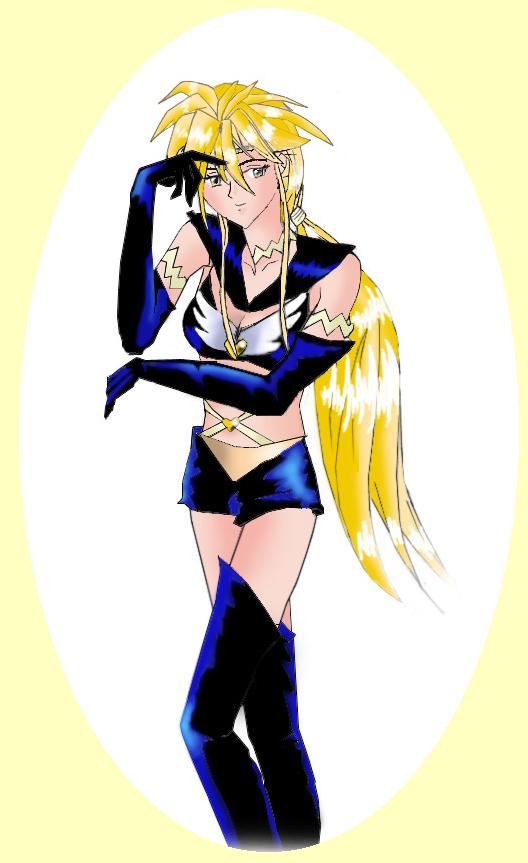 Neo Sailor Star Oberon 11" Japan Handmade Doll
PRICE:
Neo Sailor Star Oberon: $215.00 in box
This is a cool, very detailed and great likeness 11" tall fashion doll of Neo Sailor Star Oberon, the Soldier of the Land! Neo Sailor Star Oberon is a grown up Skye Starr/Ijuuin Kou, the twin son/daughter of Sailor Uranus and Sayer Starr/Seiya Kou! (S)he is absolutely gorgeous, with big anime eyes, tinted with many different shades of gold!!! His/her yellow hair is full and pulled back into a "messy" bangs styled ponytail.
Neo Sailor Star Oberon wears a glossy black Starlight type uniform with iridescent "feather" brooch with heart in center, black collar and bra-type bodice, short black shorts with yellow front/back pieces and thigh high black boots! Pale yellow ribbons crisscross at waist and neck and upper arms.
This is a gorgeous, fully poseable doll that is perfect for the Uranus & Star Fighter fan!!!
***If you are interested in acquiring the other Sailor Moon characters, please inquire for details.**

Please click on Susan to return to the Main Menu: