Princess Fireball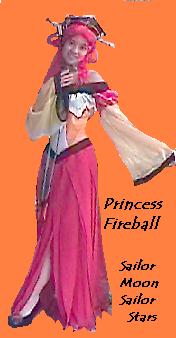 Princess Fireball Costume from Sailor Moon Sailor Stars
Regular Adult Sizes:
Includes:
Kinmoku Princess Gown, made of red chiffon, pale orange, pale blue satiny, black satin trim and yellow shimmery chiffon sleeves. Red satin "bloomers" and puffed sleeves.
pale aqua slender ribbon choker in "four leaf" shape, with pale orange olive blossom in center
pale orange olive blossom "colorform" to place on forehead
black/gold hat/crown, trimmed with olive blossoms and red/green/gold everywhere
*Pair of upturned toe red/black shoes, brand new
*only if purchasing complete ensemble

Princess Fireball red wig in two pigtails with loops (not shown) available for additiona $105.00
Sailor Fireball available as well! Ask for details.
Please click on Susan to return to the Main Menu