Fur Suit Mascot Costumes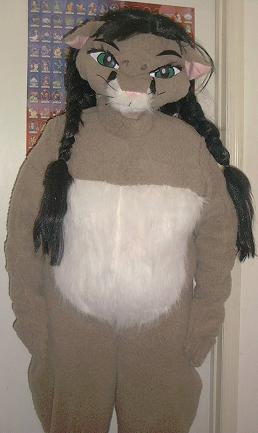 Thanks so much for the photos, Nahele san!!
****COSTUME ABOVE IS JUST EXAMPLE OF WHAT WE CAN CREATE. It is NOT for sale and will not be reproduced in any way, any part, or any form.****
Fur Suit Mascot
Women's or Men's Adult Costumes $395.00 - $495.00 (Depending upon difficulty/complexity)
Includes:
Faux fur (in your choice of color) full bodysuit with feet, gloves, tail
Fur mascot head mask with wig attached
PLEASE EMAIL YOUR MASCOT CHARACTER PICTURE AND WE'LL GIVE YOU THE EXACT DETAILS ON WHAT WILL BE REQUIRED TO CREATE IT FOR YOU.
~~~~~~~~~~~~~~~~~~~~~~~~~~~~~~~~~~~~~~~~~~~~~~~~~~~~~~~
**Mascot costume shown above NOT for sale or commission***
Please click below to order a mascot style costume:

Please click on Susan to return to the Main Menu:

s