Aayla Secura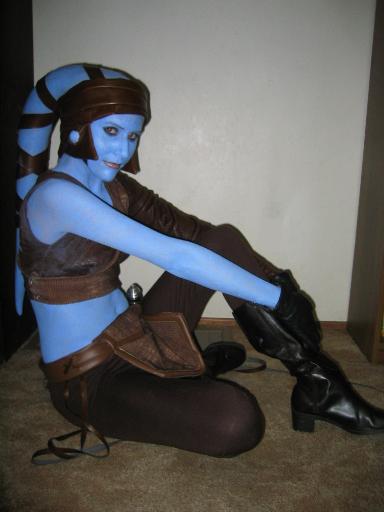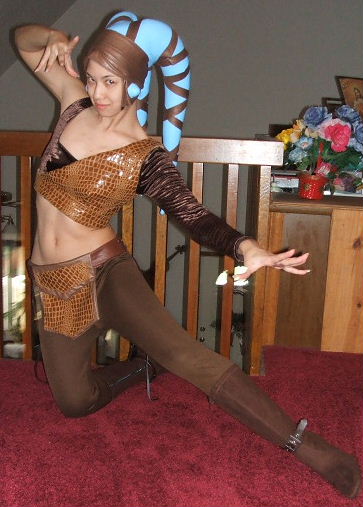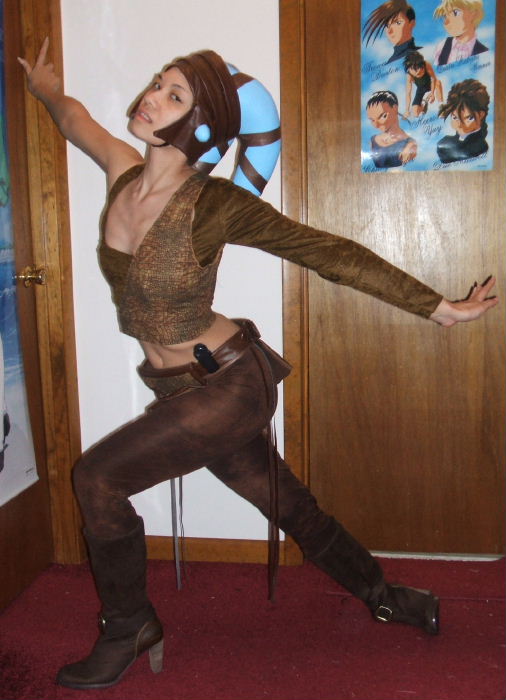 First & last photos courtesy of Tifa F. Isn't her Aayla cosplay PERFECT?! Great job!! Thank you for sharing!!
Aayla Secura Costume
Regular Adult Sizes:
Includes:
Brown textured fully lined midriff 1 long sleeved blouse
Brown "snakeskin" midriff "armor" blouse
Dark brown stretch pants
Black "vinyl" belt with metal buckle in front and "slide away" front panel to cover it, of brown lined vinyl and "snakeskin", matching back panel in back; on each side of belt are 2 long vinyl/leather straps/strings hanging down to lower calves
Aviatar style 3 tiered/folds brown vinyl "cap" with ear flaps, fully lined and with handsculpted pale blue "ears"
2 long brown vinyl straps to tie around lekku head piece (lekku head piece not included but sold separately below)
*Brown knee high boots with brown/black strap around ankle and large buckle in front of each
*Only if ordering complete costume ensemble with boots
~~~~~~~~~~~~~~~~~~~~~~~~~~~~~~~~~~~~~~~~~~~~~~~~~~~~~
Jedi cloak with hood, fully lined, available for additional $125 USD
Premium GORGEOUS Latex Lekku head piece/tentacles, handpainted and sealed in pale blue and fully assembled with "cap" and "straps" above, created and designed by the unbelievably talented Pam S. "Mitji", (Please visit her site HERE for more great Aayla tips and cosplay!) available for additional $210.00. (If not ordering the full costume above, "cap" and "straps" are additional cost)
*****Lekku are subject to availability****

Please click on Susan to return to the Main Menu