Vaan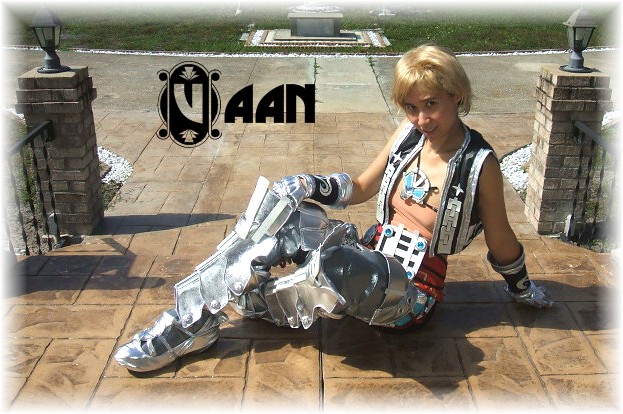 Ashe costume not included but available sold separately.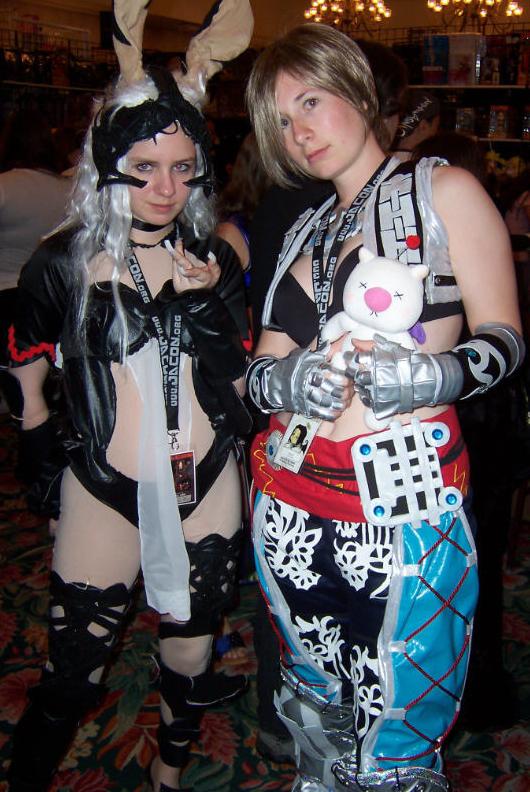 Final photo courtesy of the lovely Tamara M.! Thanks so much!!!

Vaan from Final Fantasy XII
Regular Adult Sizes:
Includes:
Black and silver pvc/pleather, fully lined and interfaced quilted vest jacket with bas-relief style designs around sides, with black trim, and blue faux crystal jewels, with huge hand sculpted "clasp" pendant in center of chest --- very exacting and detailed as in game
Black stretch tight pants with handcut white "floral" and "hexagonal" patterns on upper thighs and above knees
Black and silver pvc/pleather fully lined arm bands with silver toned bas-relief type swirls all around, with blue large faux crystals in centers of swirl and opalescent spheres on sides, with 'armor' tops(2)
Silver pvc finger "gloves" with silver toned "armor" all along each finger (2)
Charcoal metallic textured spandex, fully lined, with 2 knee "pads" on top of the main pad,with silver pvc and lycra straps, bas-relief "decor" on top straps knee pads
Red waist/hip sash belt with yellow zigzags all around
3 tiered black elastic straps waist/hip belt with large silver disc with faux large blue crystal on one side and with a silvery square with cut out shapes, circles and faux crystal blue jewels design on the other side
Turquoise thigh armor, edged in silver lycra dual tiers, fully lined, with red thick rope criss crossed all down it; with preattached semi-spherical silver pvc and plastic knee armor with fan like tops, edged in silver, with silver metal huge eyelets and 3 large chain links in the eyelets (2 preattached together)
Silver hard plastic and layered armor, piped with grey trim leg armor, 3 tiered with rectangular tops, with under silver leggings with hole in back of each at calf, with 6 silver large buttons at each end of tiered panel.
*Charcoal pleather like textured lycra ankle boots with silver pvc vinyl armor at sides and front, with silver straps and decor all over
~~~~~~~~~~~~~~~~~~~~~~
*Only if ordering complete costume with boots
~~~~~~~~~~~~~~~~~~~~~~~~~~~~~~~~~
Vaan blonde wig $45.00 (not shown)
~~~~~~~~~~~~~~~~~~~~~~~~~~~~~~~
Flesh colored lycra undershirt available for additional $18.00 (shown above)

~~~~~~~~~~~~~
Click on Susan to go to the Main Page