Tidus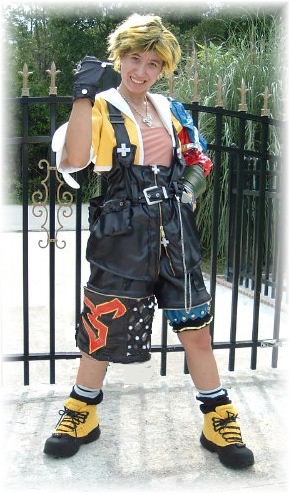 Latter 7 photos courtesy of Mario san!!! Doumo arigatou!!!!!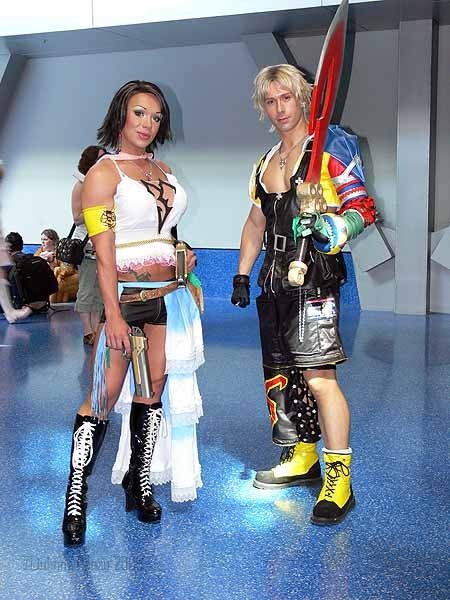 Last photo courtesy of Will M. san! Doumo arigatou!!!!

Tidus from Final Fantasy X
Regular Adult Sizes:
Yellow vinyl/pleather midriff jacket with white attached hood, fully lined. Attached to right sleeve is a silver band with buttons and attached to left sleeve is a blue shoulder "armor" vinyl, along with silver bands and buttons, horizontally and diagonally up it, finally with red "mesh" upper arm and mid arm design --- very exacting and detailed as in game
Zigzag blue, red and gold wrist band "bracelet" armor with attached metal chain "bracelet"
Official metal silver Zanarkand Abes pendant on chain necklace
Official metal silver Zanarkand Abes Ring (1)
Metal silver wide ring (1)
Black right glove with "metallic" wristband armor and button on back
Black left glove with "metallic" armor on front and back of hand, gold pleather, and 5 buttons
Silvery gold/bronze armor in 4 tiers full length armband with 2 decorative metallic buttons on each tier with puffed bands attaching it to your arm
Dark grey, white, black socks textured socks
Black pleather jumpsuit with upside down metal tooth zipper, with 3 silver "crosses" at chest, arms, arm straps with silver buckles, Zanarkand Abes symbol in red and yellow on back criss cross piece
Black belt with buckle, attached large back working vinyl horizontal backpack, attached smaller vertical side pouch; and dangling looped metal chain with silver belt clip
Black shorts, one long leg with red/yellow design, flap and criss crossed, lined cuff, with over 40 buttons at each intersection; one shorter leg cuff
Dark blue/black and light blue thigh band with over 20 buttons and silver/gold trim
*Darkest green and yellow ankle boots with metal eyelets and black laces
~~~~~~~~~~~~~~~~~~~~~~
Tidus blonde spiked down wig $55.00 (not shown)
~~~~~~~~~~~~~~~~~~~~~~~~~~~~~~~
Flesh colored lycra undershirt available for additional $20.00 (shown above)

~~~~~~~~~~~~~
Click on Susan to go to the Main Page