Ashe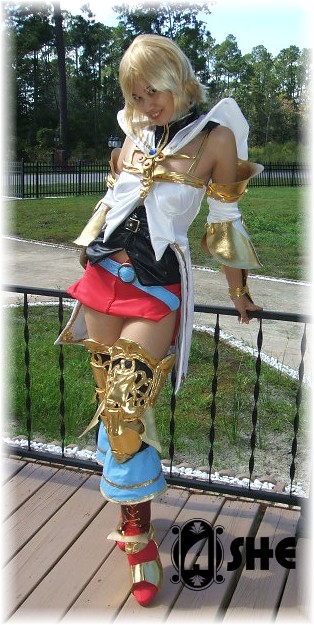 Vaan costume not included but available sold separately.

Ashe from Final Fantasy XII
Regular Adult Sizes:
Includes:
White, black and gold fitted jacket, with piping around bodice, fully lined in grey with gold trim and floral designs, gold straps, preattached stand up white and gold 'sailor' collar, with internal black high collar and double gold edging, 4 tiered round 'golden' brooch with red & blue faux jewels in center and plastic layered armor floral center brooch detailing--- very exacting and detailed as in game
Black pleatherlike corset with black piping all around and belt with metal buckle and zipper down front
Red miniskirt, with piping all around, fully lined with large back flap and golden 'x' in center back
Cerulean blue hip belt with large circular metal buckle and metal eyelets all around
White lycra fully lined armlets with upper arm gold plastic layered and formed 'armor' tops and bell like plastic layered bottoms with silver bluish trim, tufts and gold button decor all around(2)
Gold plastic layered wrist 'armor' with straps and buttons all around (formed to your hand) (2)
2 Blue/silver rings
Black thigh high stockings with gold tufted fancy trimmed armor and straps all around---ultra detailed, with hard gold plastic layered knee armor (3 layers) and 'wings' ---GORGEOUS!
*Red calf boots with cerulean blue 'pirate' tops, trimmed in gold dual layered, with fleur-de-lis embroidery on sides, maroon vinyl 'leg armor' with eyelets and laces down front, and golden plastic layered shoe armor---formed and shaped around the foot, just like Ashe's!
~~~~~~~~~~~~~~~~~~~~~~
*Only if ordering complete costume with boots
~~~~~~~~~~~~~~~~~~~~~~~~~~~~~~~~~
Ashe's shoulder length layered blonde wig $45.00

Click on Susan to go to the Main Page