Hikaru Princess Costume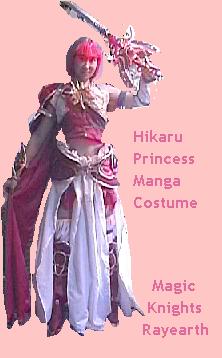 ---
Hikaru Princess Costume from Magic Knights Rayearth
Regular Adult Sizes:
Includes:
Pale red, red and dark red corset style midriff blouse, with metal eyelets, zig zag black elastic corset front, attached 2 layer thick blue rope neckband, with attached gold ends, a gold, quilted right shoulder strap, with attached red and gold 4 layered "shoulder to elbow armor", complete with draping 2 layered, fully lined red satin shoulder cape, dangling down side and back. Gold quilted sunburst in center of bodice with dangling large gold bead strings hanging from sun to strap on left side. Very ornate.
Red sash with gold medallion at upper shoulder and faux gold jewels at waist
Indigo upper arm band with gold "buckle"
Red and gold 3 layered right wrist armor with red "jewels"
Red and gold 3 layered left wrist armor, with red "jewels" and an attached pale red wrist band, shirred at elbow, with dark red straps.
Pale red over skirt, with attached front panel piece, draping to floor, shirred at 2" from top, with faux jewels adorning the upper sides
Red short underskirt, with over 30 fire shaped ends, draping down with gold shirred waistband
Red and gold trimmed around waist/hip armor, with gold designs on left hip, embroidery and faux jewels, belted with gold quilted designs and dangling gold beads and moon jewel down front center.
Gold tufted hairband
Indigo thigh band for left thigh boot
*Dark red thigh high boots, with pale red thigh tops, shirred onto red lower baggy boots, with 4 layered red/gold knee armor on each boot, dangling red bead strings from each armored knee and gold/red and beaded faux jewels on each ankle front of boot. (only if ordering complete costume ensemble)
---
Hikaru's 39" Cosplay Sword (not shown) available for additional $60.00 US dollars.
~~~~~~~~~~~~~~~~~~~~~~~~~~~~~~~~~~~~~~~~~~~
Hikaru's red long braided wig (not shown) available for additional $55.00 US dollars.
~~~~~~~~~~~~~~~~~~~~~~~~~~~~~~~~~~~~~~