Gene Starwind from Outlaw Star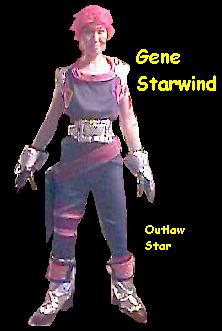 Latter 3 photos courtesy of Robert N. Arigatou!!!!!!!!
Gene Starwind from Outlaw Star
Adult regular sizes:
Includes:
Navy blue bodysuit with red decor and silver trim on sleeves and one leg
Red/Gold large star on clear vinyl band for arm
Brown vinyl large belt with brown gun holster--with flap
Large silver belt with "buckle" and black trim
Black vinyl and silver huge gloves, tufted and detailed
*Black/brown, silver and orange boots, beautifully detailed!
~~~~~~~~~~~~~~~~~
*Only if ordering the complete costume with boots
~~~~~~~~~~~~~~~~~~~~~~~~~~~~~~~
Red short wig (not shown) available for additional $45.00