Ascot from Magic Knight Rayearth 2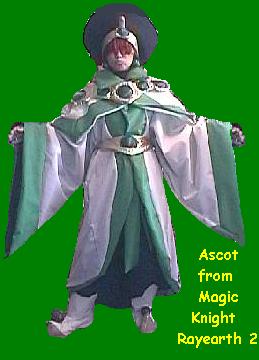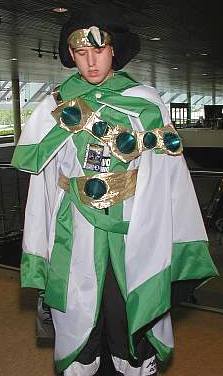 Latter photo courtesy of Mickey W. Arigatou!!!!!!!!
Ascot from Magic Knights Rayearth
Adult regular sizes
Includes:
White and green outer long robe, draping sleeves, fully lined
Navy blue baggy pants
Green sash belt
Navy Blue oversized beret type hat with gold decor and green "jewels"
Blue/gold and green hand covers
Gold belt v-shaped, with large green "jewel" in center
Navy blue turtleneck shirt
Gold with green "jewels" connected shoulder armor, goes all the way around the back and front
Sword with sheath
*White with gold curled toe boots, green "ball" on each foot
~~~~~~~~~~~~~~~~~
*Only if ordering the complete costume with boots
Auburn short brown wig available for additional $35.00