Custom Sailor Chibi Chibi Moon Petite Soldier 1.5" Figure
This a very tiny, cute figure that would be perfect in scale with the Petite Soldier set!!! She will be wearing her regular anime colors of blue, white, gold and magenta bows. (My own is shown below in which we made her skirt/collar magenta) Yours will have the royal blue skirt/collar, with gold trim and magenta bows! Poses and arm styles may vary due to stock at hand.
Genuine BanDai 1.5" Petit Soldier in box $20.00 (CUSTOM MADE FIGURE from an official Japan figure)
This figure DOES not come in a petite soldier box unless specifically requested for additional $5.00.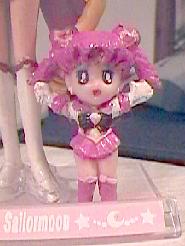 Others available upon request. Please just ask! We can make ANY character into a Petite Soldier, from virtually any Anime or non anime too!!! ^_^
Please click on the icon of Susan to return to the Main Menu