Shadi 11.5" Volks of Japan Doll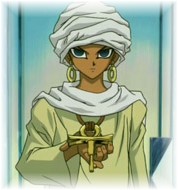 Shadi11.5" Obitsu Japan Doll!!! Shadi is the mysterious man who seems to hold the key to the Pharaoh's memories and past!! He's an enigmatic and solitary figure, but I think he needs a woman's touch after he's completed his mission and can finally think of other things than just the Pharaoh! And the perfect match to his soul would be the lovely Ishizu Ishtar, wouldn't you agree!!!
Shadi's Stats:
Birthday: March 3
Height: 5' 11"
Weight: 145 lbs
Blood Type: AB
Favorite Food: ???
Least Favorite Food: ???
The Shadi doll comes "in box" (though box may vary) wearing the Egyptian attire he's worn throughout the series! His robe is a flowing, fully lined ivory with long sleeves. Around his shoulders and neck is a multitiered white cape that flows to the ground. Around his head is a white turban and on his ears are large golden hoop earrings! Shadi wears sandals and he wears the Millennium Key around his neck, shown at the front center of his robes. Shadi is truly a puzzle with his large, piercing blue eyes on a tanned skin body.
Shadi is made using the 11.5" Obitsu Japan Slender Male body, and OB-4 head. This particular doll has been completely handpainted in a dark tan, and as such should be handled carefully, but if you'd like him the original VOLKS lighter tan skinned head and body, that is also available.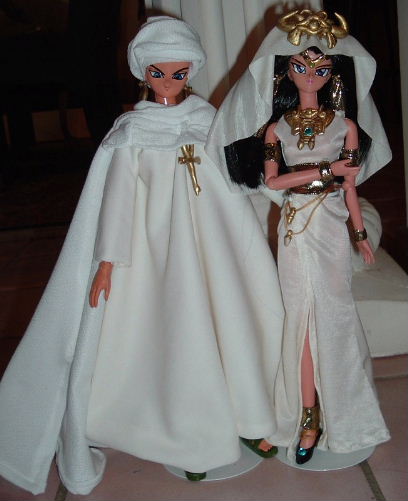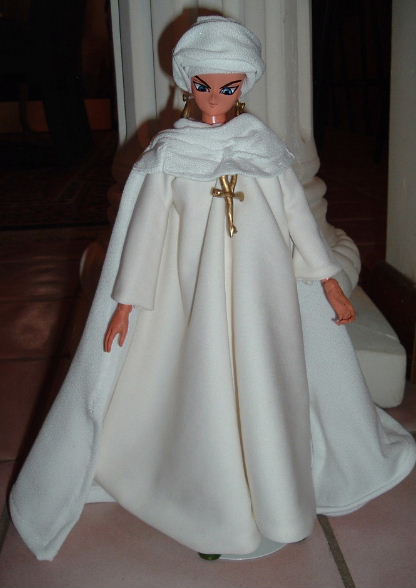 **Ishizu doll not included, but sold separately**
Please click on the icon of Susan to return to the Main Menu