Seto Kaiba 11.5" Volks of Japan Doll
Seto Kaiba 11.5" Volks of Japan Doll!!! *_* Seto is such a handsome guy, but with such an attitude problem! He certainly needs someone caring and understanding to bring out his better virtues--and Serenity is that perfect someone!
Seto's Stats:
Birthday: October 25
Height: 6' 3"
Weight: 143 lbs
Blood Type: A
Favorite Food: Beef Foie Gras
Least Favorite Food: Oden
The doll comes "in box" (though box may vary) with his second outfit-- with the dashing dark purple with wide and high shoulders, flowing out (defying gravity!) trenchcoat, with silver PVC armlets and cuffs! He also wears a black turtleneck shirt, with pleather like tight pants on his super gorgeous extra long legs! A belt with a silver "KC" buckle and a brown 3 tiered cord on which his "card" locket is worn completes his sexy look! He has the finest Katsilk silky hand rooted "saucy brown" colored hair, set in Seto's inimitable style!! Seto is made using the latest 11.5" Volks of Japan "N" body, which is long and lean and the SH-08 head, which is the slender face with the longer nose---exactly like Seto's!! His eyes are a deep iridescent blue and so beautiful!
Price: $130.00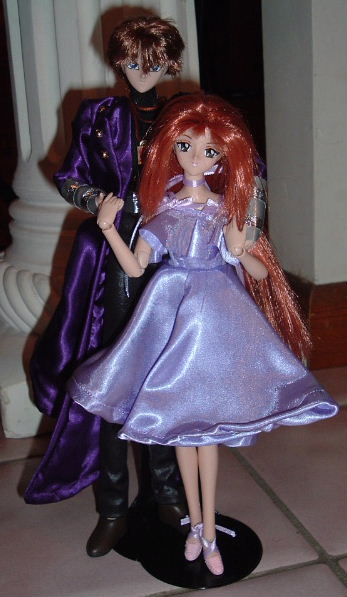 *****Serenity Wheeler/Shizuka Kawai Jounouchi 11" VOLKS doll SOLD SEPARATELY*****
PLEASE CLICK HERE TO VIEW Seto Kaiba Version 2 11.5" VOLKS of Japan Doll
PLEASE CLICK HERE TO VIEW Seto Kaiba Version 3 11.5" VOLKS of Japan Doll
Please click on the icon of Susan to return to the Main Menu