Ryou Bakura 11" Volks/Obitsu Japan Doll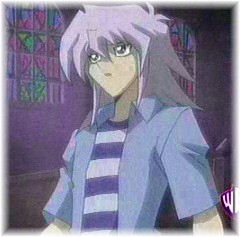 Ryou Bakura 11" Volks/Obitsu Japan Doll!!! Ryou is SUCH an adorable guy! He's sweet, kind, charming, gentlemanly, has a GORGEOUS English accent, and is just plain all around adorable! However, his having had an evil spirit inside his mind has made him rather reticent and without confidence in himself. Maybe all he needs is a little push and assurance in his qualities from someone who has a lot of experience in "pushiness and overconfidence in herself", who ADORES "charming, sweet and gentlemanly" boys, and who goes by the initials of "R.H." ^.~ (Of course, when she's about 3 years older, that is!!!)
Ryou's Stats:
Birthday: September 2
Height: 5' 7"
Weight: 114 lbs
Blood Type: AB
Favorite Food: Cream Puffs
Least Favorite Food: Raw Oysters
The Ryou doll comes "in box" (though box may vary) wearing his Battle City outfit, which consists of a striped blue and white t-shirt, pale blue tight pants, white socks, an azure blue jacket with high collar and a pair of blue and white sneakers. Of course, his powerful and dreaded Millennium Ring resides around his neck! His chocolate brown eyes are iridescent and so beguiling--how could anyone resist him?! His spiky hair is the palest white-lavender super deluxe and silky nylon/saran hair, and styled just like his!
Ryou Bakura, without even trying to be, you are one sexy boy!
Ryou is made using the 11" Volks of Japan N Male body, and VOLKS SH-08 head.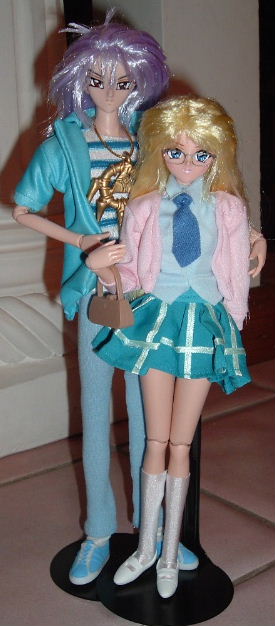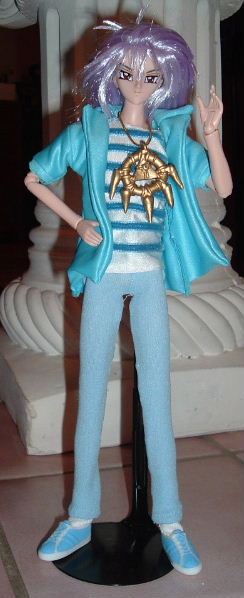 **Rebecca doll not included, but sold separately**
PLEASE CLICK HERE to view Ryou Bakura Version 2 11" VOLKS/Obitsu Japan Doll
PLEASE CLICK HERE to view Ryou Bakura Version 3 11" VOLKS Japan Doll
Please click on the icon of Susan to return to the Main Menu