Rebecca Hawkins 10" Volks of Japan Doll
Rebecca Hawkins/Rebecca Hopkins 10" Volks ofJapan Doll!!! Rebecca was such a cute little brat, wasn't she?! But now that she's 15 and almost a college graduate, she's feeling a LOT more grown up!!!! She's always wanted a "charming, gentle" boy at her side, and who better than the adorably sweet Ryou Bakura?
Rebecca's Stats:
Birthday: May 15
Height: 5' 0"
Weight: 90 lbs
Blood Type: A
Favorite Food: Cookies
Least Favorite Food: Spinach
Ka: White Eyes, Purple Dragon
The Rebecca doll comes "in box" (though box may vary) wearing her college student uniform, which consists of a palest blue collared blouse, with dark blue tie, a baby pink longsleeved sweater, white calf high socks, and an aqua-blue plaid mini skirt! Her lemon blonde hair is silky saran hair and hangs down to her waist! She wears her "smart" looking metal laser etched eyeglasses and a pair of either white Mary Jane shoes or brown loafers (your choice) complete her "adult" school girl look! Her royal blue eyes are iridescent and very pretty! Rebecca is a force to be reckoned with!
Teenage Rebecca shown below, is made using the 10" Volks of Japan Girl body, and VOLKS SH-03 head.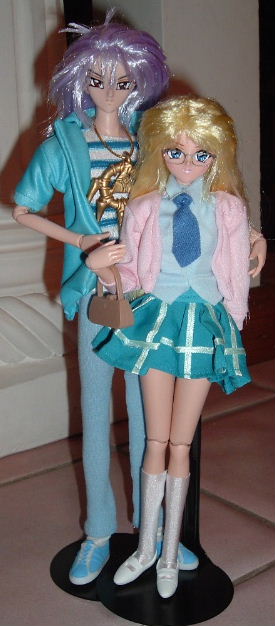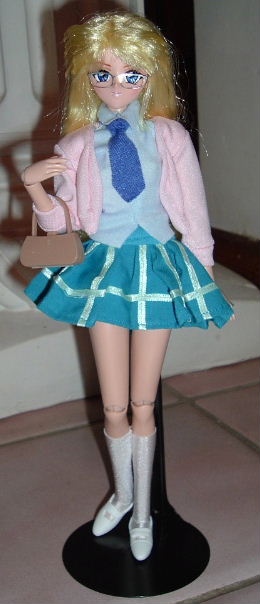 CLICK HERE to view the 8" CHILD Size Rebecca Doll
**Ryou doll not included, but sold separately**
Please click on the icon of Susan to return to the Main Menu