Mai Valentine 11" Volks of Japan Doll
Mai Valentine/Mai Kujaku11" Volks of Japan Doll!!! Mai is such a vixen, isn't she?! She's gorgeous and she knows it! No wonder she was able to capture the heart of Joey with her tough, yet compassionate nature!!!!!
Mai's Stats:
Birthday: November 20
Height: 5' 8"
Weight: 115 lbs
Blood Type: O
Favorite Food: Penne All'arrabbiata
Least Favorite Food: Durian
Ka: Red Eyes, Black Dragon
The Mai doll comes "in box" (though box may vary) wearing her Battle City outfit, which consists of a white midriff corset bodice, black laces and all, a purple miniskirt, a black hip belt with gold buckle, a sleeveless vest jacket with high collar and silver "pockets" on sides, white opera length glovelets and a black strap pouch for her left thigh! Mai wears knee high purple boots and silver hoop earrings in her ears! Her long platinum blonde hair cascades down to her thighs and is thick and full! Her purple eyes are iridescent and she wears plenty of glittery eye shadow and lashes!
Mai is made using the 11" Volks of Japan Female body, and SH-03 head.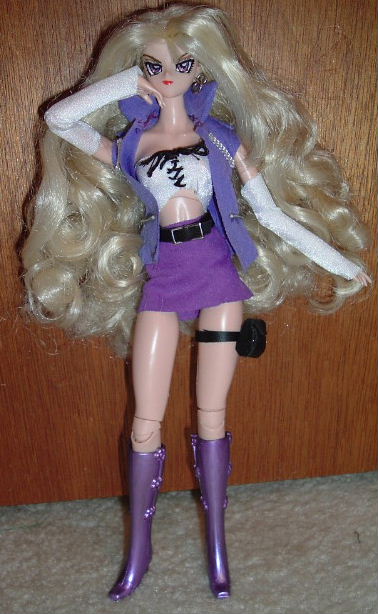 Please click here to view Mai Valentine Version 2 11" Obitsu/Volks of Japan Doll Available
**Joey doll not included, but sold separately**
Please click on the icon of Susan to return to the Main Menu