Duke Devlin 11" Obitsu Japan Doll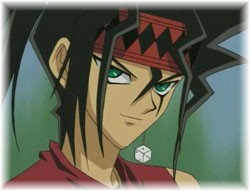 Duke Devlin/Otogi Ryuji11" Obitsu Japan Doll!!! Duke fancies himself a ladies man and a gifted game inventor! Well, you've gotta admit that he is the creator of a hit game, Dungeon Dice Monsters and has a legion of fangirls!! Let's see if he can get Vivian Wong to be one of them! ^.~
The doll comes "in box" (though box may vary) with his main attire, consisting of a black A-shirt, with tight black pants that flare out at the bottom, black socks, a brown vinyl belt with "silver" buckle, a maroon, fully lined vest, a maroon with black "diamond" pattern bandanna, 2 wrist bands with gold trim and silver "s" patterns, plus 4 gold cord upper arm bands! He wears a handsculpted "silver and blue" pendant, black shoes, and with a pair of dice in his hand and one dangling from his left ear, he's sure to be a winner!
Duke's Stats:
Birthday: February 28
Height: 5' 8"
Weight: 140 lbs
Blood Type: B
Favorite Food: Chinese Food
Least Favorite Food: Vinegared Foods
Duke is made using the 11" Obitsu Japan slender male body, and Obitsu Japan Anime Head #4!! His eyes are an iridescent green, with a black "streak" coming down from his left eye, along with a high ponytail hairstyle, with angular bangs and trails!!l!
Price: $95.00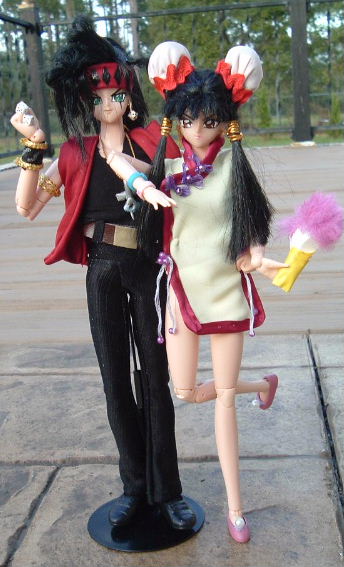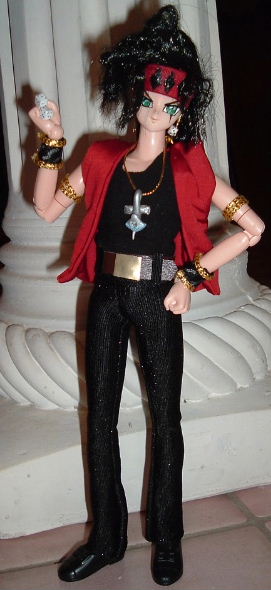 **Vivian doll not included, but sold separately**
Please click on the icon of Susan to return to the Main Menu