SeraMyu Style Sailor Uranus 11" Doll
Pretty Soldier Sailor Moon SeraMyu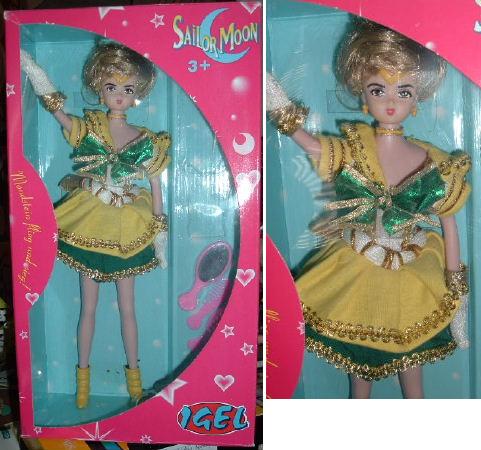 Myu Style Sailor Uranus - Sanae Kimura 11" Handmade Doll
SeraMyu Sailor Uranus 11" Doll : $105.00 in box ----(YELLOW or NAVY BLUE Version-Your choice)
This is a beautiful, very detailed and 11" tall fashion doll of Sailor Uranus/Sanae Kimura from the first stage Sailor Moon Musicals or SeraMyu! She is absolutely gorgeous, with short cropped golden hair, and with her mouth open, as if she's singing!
Sailor Uranus comes in your choice of either yellow and green uniform (as shown) or a navy blue and yellow uniform (not shown, but available), completely trimmed in gold and with handcrafted details everywhere! She also comes with her Space Sword talisman!
This is a beautiful, fully poseable doll that is perfect for the SeraMyu Sailor Uranus fan!!!
*******Box style and minor contents (like brush, comb, mirror) may vary*******
***If you are interested in acquiring the VOLKS Style SeraMyu Sailor Uranus, please inquire for details.***

Please click on Susan to return to the Main Menu: