Quatre R. Winner, Dorothy Catalonia
& Dottie, Achmed Jr., Ali Jr, and Aren Jr.
1/6 Scale Volks of Japan Dolls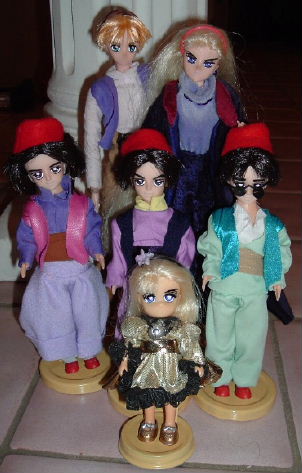 ~~~~~~~~~
These are handcrafted, customized Anime dolls of Quatre R. Winner, Dorothy Catalonia and their future child, Dottie, plus their adopted children, Achmed, Ali and Aren, from the hit anime series "Gundam Wing". They are 1/6 scale, approx. 11" tall, (while the children are approx. 3" - 5" in height), with fully poseable bodies and removable clothing. They are wearing the outfits they wore in the Endless Waltz Movie. Other outfits available for purchase. Please inquire for details.
Prices:
Endless Waltz Edition Quatre, Dorothy, Dottie, Achmed, Ali and Aren Doll Set $350.00
Individually:
Quatre R. Winner Endless Waltz Edition 11" Doll $90.00
Dorothy Catalonia Endless Waltz Edition 11" Doll $100.00
Dottie Winner 3" Doll $55.00
Achmed Jr 5" Doll $40.00
Ali Jr 5" Doll $40.00
Aren Jr 5" Doll $40.00
Also available (Please click on the links below to view pictures):
Quatre R. Winner 11" Preventers Uniform Outfit
Dorothy Catalonia Anime Series 11" School Uniform Outfit $24.99
Dorothy Catalonia Anime Series 11" Orange Casual Outfit $24.99
Dorothy Catalonia 11" Preventers Uniform Outfit $29.99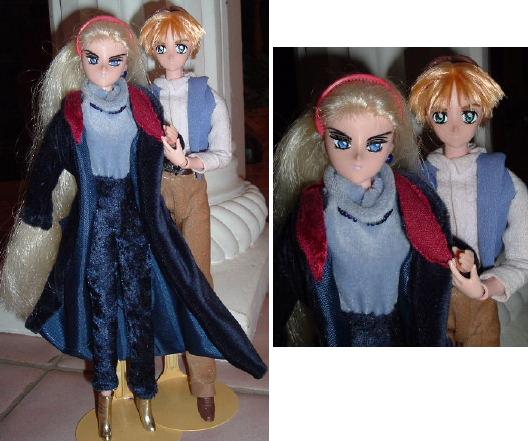 You are Visitor No: