Super Sailor Pluto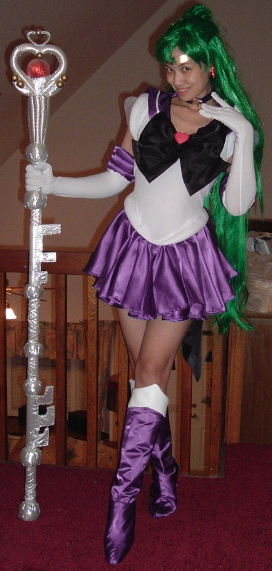 Super Sailor Pluto Costume from Sailor Moon Sailor Stars
Adult Regular Sizes Costume
Child's Age 7-12 Costume
Small Child's Age 0-6 Costume
Includes:
Deep purple and white Sailor Uniform, padded upper chest bodice, with chiffon/organza illusion sleeves attached, with black front bow, long black back bow, skirt of dark purple, collar trimmed in white. (Black uniform with fuschia bows also available)
Dark purple knee-high boots with white trim (black boots avail.)
Fuschia arrowhead earrings-clip on or pierced. (CHILDREN'S COSTUMES DO NOT INCLUDE EARRINGS)
Golden molded vinyl (hard) "tiara" with fuschia/purple faux oval jewel in center.
Deep purple choker with golden star in center. (Black avail.)
White/deep purple elbow-length gloves (black/white avail.)
~~~~~~~~~~~~~~~~~~~~~~~~~~~~~~~~~~~~~~~~~~~~~~~~~~~~~
*Only if ordering complete costume with boots
~~~~~~~~~~~~~~~~~~~~~~~~~~~~~~~~~~~~~~~~~~~~~~

Please click below to view Sailor Pluto's wigs, wands and accessories:


Please click on Susan to return to the Main Menu