SeraMyu Sailor Pluto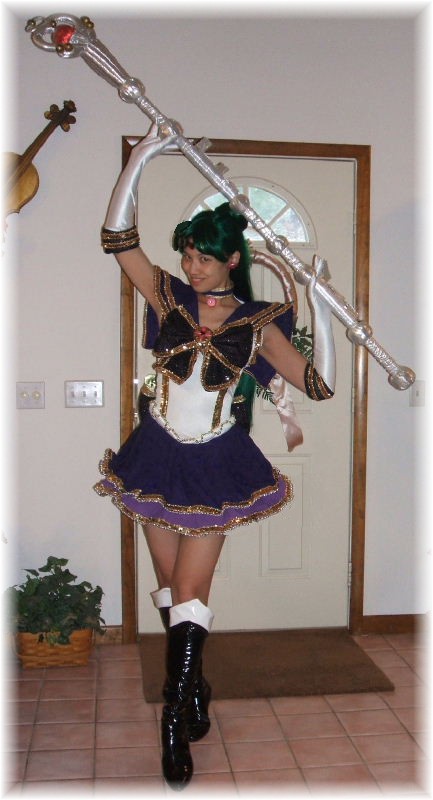 Thanks to Debra-san for the wonderful pictures!!!!

SeraMyu Sailor Pluto
Adult Regular Sizes Costume
Child's Age 7-12 Costume
Small Child's Age 0-6 Costume
Includes:
Deep purple and white lycra type Sailor Uniform completely edged in gold metallic trim all around. The front and back bows are black, edged in gold metallic trim, with a fuschia and blue round handsculpted "brooch" in front, completely trimmed and surrounded in gold, removable. The skirts are double layered skirts -- deep purple and an underskirt of black (or purple--your choice), both edged in metallic trim and beads. The "waist belt" of white lycra is tufted and crisscrossed with Roman goddess style silver beads.
*Deep purple high-heeled boots with white shimmery trim on top
Fuschia Purple faux large oval jewel earrings-clip on or pierced. (CHILDREN'S COSTUMES DO NOT INCLUDE EARRINGS)
White gloves with black "metallic" gauntlets with gold metallic trim and beads.
Golden tiara with large round faux fuschia jewel in center.
Deep purple choker, edged on top and bottom with gold trim, with round fuschia pendant in center, trimmed in gold.
~~~~~~~~~~~~~~~~~~~~~~~~~~~~~~~~~~~~~
*Only if ordering complete costume with boots
~~~~~~~~~~~~~~~~~~~~~~~~~~~~~~~~~~~~~~~~~~~~~~

Please click below to view Sailor Pluto's wigs, wands and accessories:


Please click on Susan to return to the Main Menu