PGSM Sailor Moon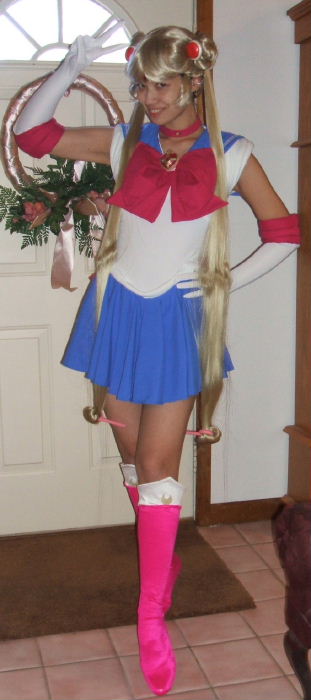 PGSM Sailor Moon Costume
Regular Adult Sizes Costume:
Child's Age 7-12 Costume
Small Child's Age 0-6 Costume
Includes:
Sailor Moon royal blue matte fabric, with sailor collar with 2 rows of white trim, and white matte lycra uniform, with a chest armor plate, padded! The costume has a matte fuschia pink front and back bows, fully lined, with a removable official or hand sculpted heart brooch in front (depending on stock at hand)
Pair of matte white lycra gloves with fuschia pvc vinyl gauntlets
Fuschia fully lined choker with four faux gems & dangling moon and beads in center
Pair of golden faux jewel moon dangling earrings. Clip on or pierced -- your choice
Golden "tiara" with faux oval red jewel in center
Pair of red and gold sculpted "meatballs" for hair (2) (not shown)
White pearlescent 'feather' clips for hair (2)
*Fuschia PVC knee high boots with white tops and golden crescent moons in center.
~~~~~~~~~~~~~~~~~~~~~~~~~~~~~~~~~~~~~~~~~~~~~~~~~~~~~~~~
*Only if ordering the complete costume ensemble
~~~~~~~~~~~~~~~~~~~~~~~~~~~~~~~~~~~~~~~~~~~~~~~~~~~~
Please click below to view Sailor Moon wigs, wands and accessories available:


~~~~~~~~~~~~~~~~~~~~~~~~~~~~~~~~~~~~~~~~~~~~~~~~~~~~

Please click on Susan to return to the Main Menu