SeraMyu Super Sailor Moon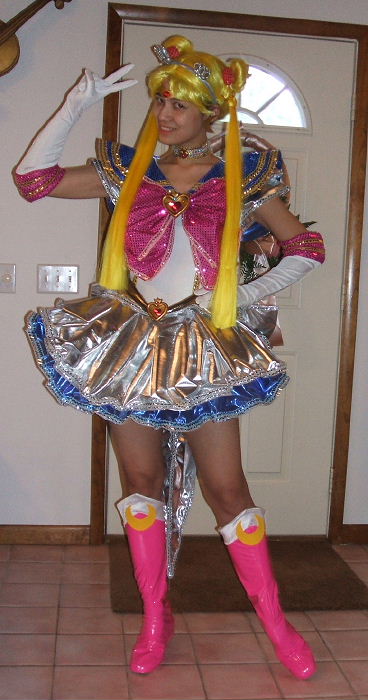 SeraMyu Super Sailor Moon Costume
Adult Regular Sizes Costume
Child's Age 7-12 Costume
Small Child's Age 0-6 Costume
Includes:
Super Sailor Moon SeraMyu Unform, with white lycra bodice edged with vertical rows of gold metallic trim, a silver edged waist belt with a golden tufted 2nd belt underneath, and a sculpted heart waist belt brooch with faux jewel/moon in center; silver fully lined 3 tiered sleeves trimmed all around in silver mylar trim. The collar is royal blue mylar dotted metallic with gold metallic trim all around with stand up collar, the silver overskirt is rolled pleated in the Super Moon Myu style with dual silver metallic trim at hem edge and gold inside hem, the underskirt is royal blue metallic pleated in the Myu style with gold metallic trim at hem and gold trim inside hem. The mylar dotted metallic, fuschia bow is trimmed in metallic pink trim. The golden sculpted heart "brooch" has a crescent moon and crescent moon/faux jewels in center. The HUGE back bow is silver, fully lined, trimmed all around in silver metallic trim.
Elbow length white gloves, trimmed in tufted hot pink sequined material with metallic gold trim in each tuft
Fuschia wide choker edged in gold with crescent moon in center
Pair of crescent moon earrings, pierced or clip on (CHILDREN'S COSTUMES DO NOT INCLUDE EARRINGS)
Red sequined "meatballs"
Golden "tiara" with yellow crescent moon in center
Silver sculpted with silver beads around each "feather tip" feather headband
*Pair of knee high hot pink boots, styled in Myu style, with large gold crescent moon in center of each, platinum toppers
~~~~~~~~~~~~~~~~~~~~~~~~~~~~~~~~~~~~~~~~~~~~~~~~~~~~~~~~
*Only if ordering the complete costume ensemble
~~~~~~~~~~~~~~~~~~~~~~~~~~~~~~~~~~~~~~~~~~~~~~~~~~~~
Please click below to view Sailor Moon's Wigs, wands and accessories available:


~~~~~~~~~~~~~~~~~~~~~~~~~~~~~~~~~~~~~~~~~~~~~~~~~~~~

Please click on Susan to return to the Main Menu