SeraMyu Style Eternal Sailor Moon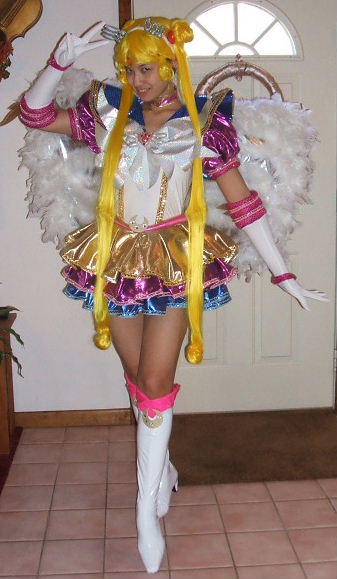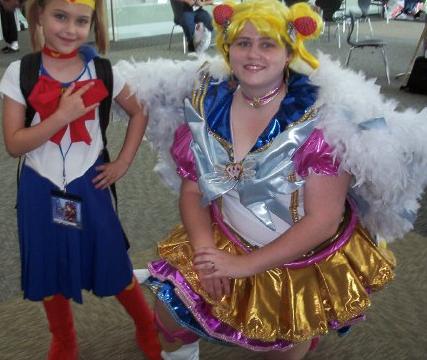 Last photo courtesy of Tanya san! Doumo arigatou!!!!
SeraMyu Style Eternal Sailor Moon
Adult Regular Sizes Costume
Child's Age 7-12 Costume
Small Child's Age 0-6 Costume
Includes:
Gold, blue, & magenta triple layered METALLIC skirt, all three layers COMPLETELY trimmed in metallic trimming, on a white stretchy lycra bodice, with vertical gold crepe trim in six stripes all around, with metallic blue fully lined and wired collar, trimmed in 3 layers trim of crepe gold. The front "bow" is sparkly silver lame' and is fully lined and quilted.
The magenta metallic pink "puffed"sleeves are fully lined and elasticized, trimmed with gold everywhere you can imagine! Even the waist belt is stuffed and the back has metallic magenta slender long bows down back.
White stretchy past the elbow length gloves, trimmed in metallic magenta and in each tuft is trimmed with mylar gold! Metallic magenta ribbons and golden crescent moons are on the wrists.
Magenta choker metallic, double edged with gold crepe ribbon with golden crescent moon & heart in center
Pair of red metallic "meatballs" for hair
Pair of golden dangling crescent moon/star earrings with amber faux jewels studded on it---pierced or clip (CHILDREN'S COSTUME DOES NOT INCLUDE EARRINGS)
Golden tiara with huge round red faux jewel in center to place on forehead
Huge pair of in scale wings, lined, and then all covered in silver lame. Finally 2 fluffy white FEATHER BOAS encircle the center and hundreds of REAL WHITE feathers are adorning the front and back!! A MUST SEE, too INCREDIBLE AND EXACTLY like in the SeraMyus! It even has the separate/extra "silver" span of stuffed "wings" on the bottom front!! Beautiful!! IN SCALE, with approx. 3.5-4' wingspan!
Silver sculpted and sequined "feather" headband for head
*Pair of white knee high PVC vinyl boots, trimmed in metallic magenta with huge golden crescent moons in center of each
*Only if buyer purchases complete costume ensemble with boots.
~~~~~~~~~~~~~~~~~~~~~~~~~~~~~~~~~~~~~~~~~~~~~~~~~~~~~~~~~
Please click below to view Sailor Moon Cosplay Acessories available for purchase:


Please click on the icon of Susan to return to the Main Menu