Eternal Sailor Moon Children's Costume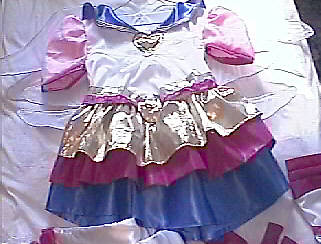 Eternal Sailor Moon Costume
Child's Age 7-12 Costume
Small Child's Age 0-6 Costume
Includes:
Gold lame, blue , fuschia triple layered skirted white stretchy lycra
bodice, with blue collar, trimmed in gold, with REAL white feathers
on the bodice and a "golden" heart/moon brooch attached, and pink "puffed"
sleeves, trimmed with gold everywhere, fuschia slender long bows down back.
White stretchy elbow length gloves, trimmed in fuschia at elbow and wrists.
with golden crescent moons on wrists
Fuschia choker with golden crescent moon & heart in center
Pair of white/red "meatballs" for hair
Genuine feather headband for head
*Pair of white knee high boots, trimmed in fuschia with golden crescent
moons in center of each
*Only if buyer purchases complete costume ensemble with boots.
~~~~~~~~~~~~~~~~~~~~~~~~~~~~~~~
Please click below to view the Sailor Moon Wigs, Wands and Accessories available:


Click on Susan to return to the Main Page