Neo Princess Vesta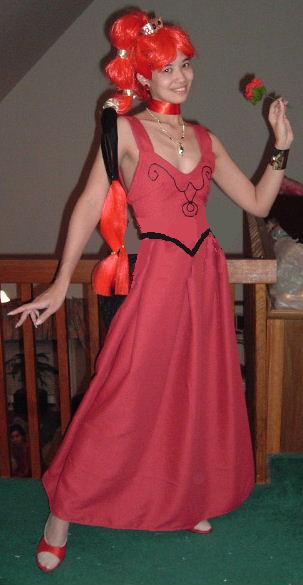 Neo Princess Vesta Costume
Regular Adult Sizes Costume:
Child's Age 7-12 Costume
Small Child's Age 0-6 Costume
Includes:
Dark red Princess gown with sweetheart neckline, straps, dipped waistline trimmed in black, with flowing, full length skirt. Black swirled decor adorns the front bodice.
Dark red long lined choker necktie
Vesta Asteroid symbol for forehead
Golden bead necklace with golden and red faux "jewels"
Golden wristband, tufted and designed
*Pair of dark red pumps (open toe or regular)
~~~~~~~~~~~~~~~~~~~~~~~~~~~~~~~~~~~~~~~~~~~~~~~~~~~~~~~~
*only if purchasing complete ensemble
Please click below to view Sailor Vesta's Cosplay Wigs, wands, and accessories available:
Please click on Susan to return to the Main Menu