Yuna Gunner Costume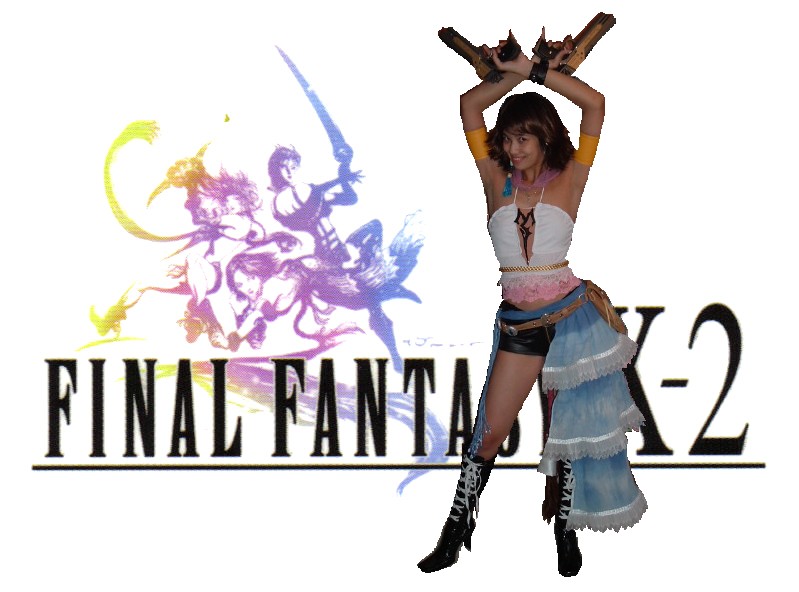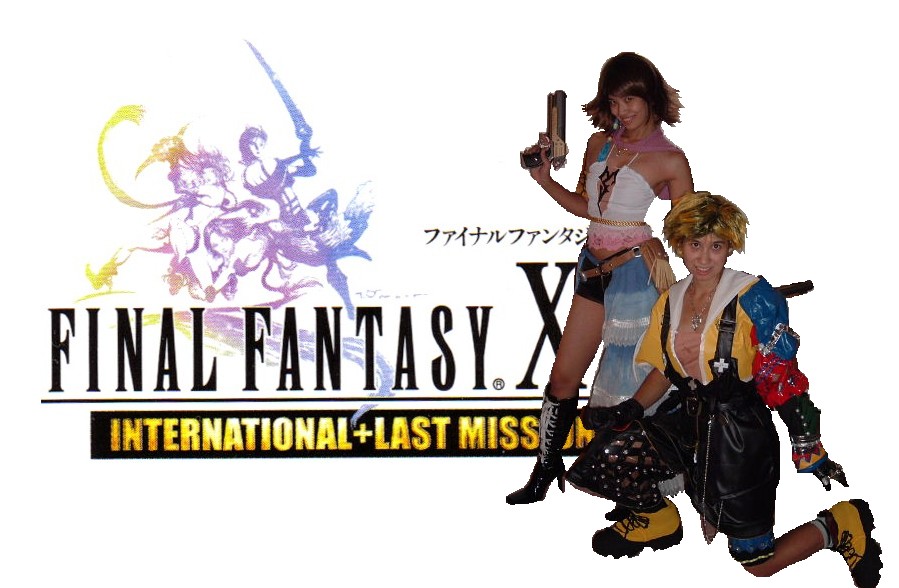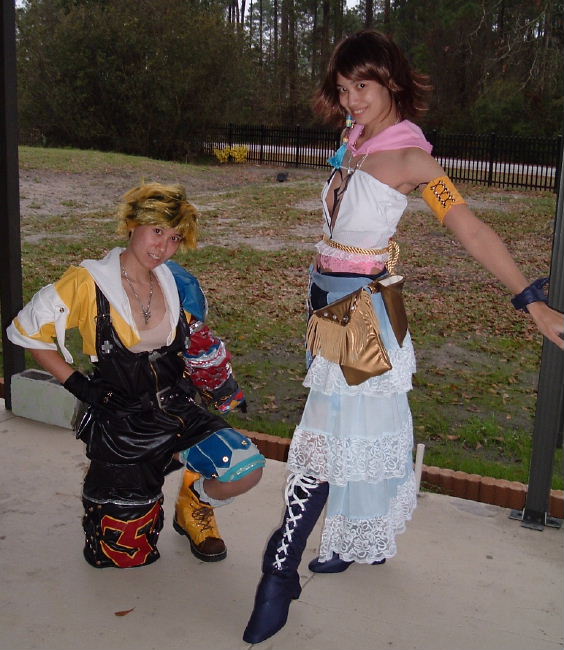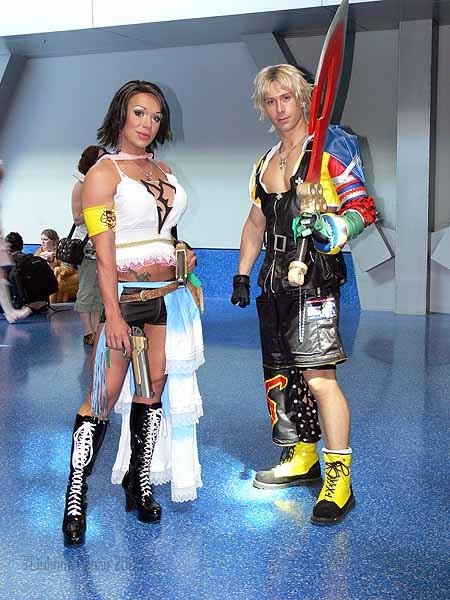 Last photo courtesy of Will M. san! Doumo arigatou!!!!

The "cg doll" picture is a beautiful gift, courtesy of the talented Hope S! Thanks again! God bless!
Yuna Gunner Costume from Final Fantasy X-2 Costume
Regular Adult Sizes:
Includes:
White stretchy lycra blouse with elastic straps around neck and across bust, with curved slit down front (your choice of modest or accurate slit) with flesh toned spandex underneath, with black "Zanarkand" symbol model attached, white "v" shaped lace trim at edge of bottom of shirred blouse, and dark pink large lace trim underneath entire section; with attached dark pink knit (sweater material--Just like Yuna's!) working decorative hood and collar
Super short black pleather lycra tight shorts with metal working zipper in front, 2 back pockets, with straps and "criss cross" strap in center back
Dual yellow golden "ropes" around waist, removable
Fading blue left side sash skirt, with 3 layers of fading from dark medium blue to white, 2 rows of white "squared" trim above wide white lace at bottoms of each layer. Shirred and attached to blue hip belt with many blue ropes attached around belt and dangling off side
Attached belt pouch, tan vinyl, completely lined, with 5 silver "buttons" and genuine suede leather fringe all around clasp and front
Tan vinyl belt with 4 silver d rings around, and 2 large silver modelled extra decorative buckles at front, with 3 faux blue jewels in center, and large silver metal decorative buckle and hardware in front
Yellow lined PVC arm bands with metal eyelets, black laces, fully working accuracy
Black wrist band lined and tufted, swirling around to point
*Black pleather knee high lace up boots, with metal eyelets and criss cross white laces. Beautiful!
(*only if ordering complete costume ensemble)
~~~~~~~~~~~~~~~~~~~~~~~~~~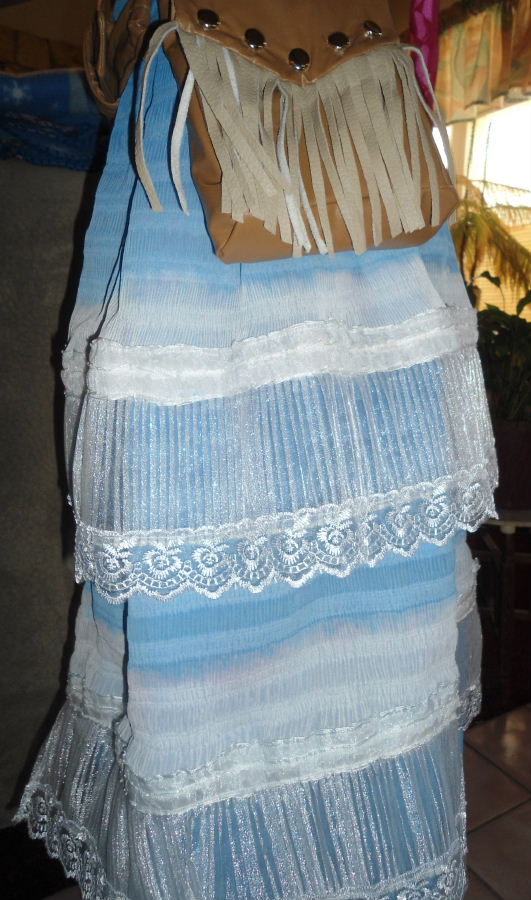 If you'd like your side skirts to have embroidered super deluxe lace trim (shown above), please add $35 extra. (Click on "Buy Now" button below to order the deluxe embroidered lace)
~~~~~~~~~~~~~~~~~~~~~~~~~~~~~~~~~~~~~~~~~
Yuna's wig flared wet look brown/auburn wig available with (or without--your choice) red textured long, woven hair attachment, with fading pink/white fabric piece and purple ribbon bowtie at bottom and brown/auburn hair lock coming out of bottom for additional cost (See below)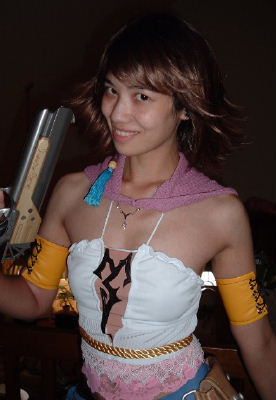 ~~~~~~~~~~~~~~~~~~~~~~~~~~~~~~~~

Yuna's Tiny Bees Cosplay Accessory "guns" Hori Official IN ORIGINAL BOX available for additional $450 a set of 2 with official stand. These are also completely working PS2 game controllers.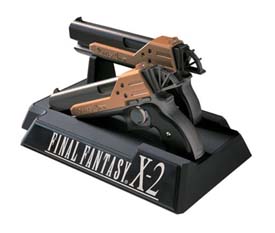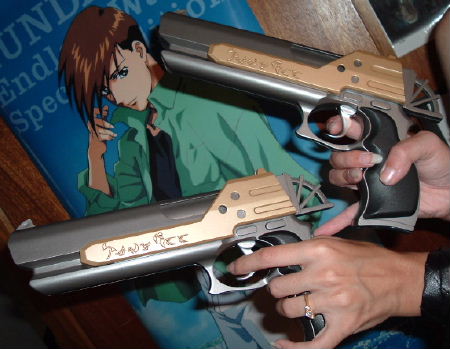 ~~~~~~~~~~~~~~~~~~~~~~~~~~~~~~~~
Yuna's Tiny Bees Cosplay Accessory "guns" replicas available for additional $65 a set of 2