Princess Garnet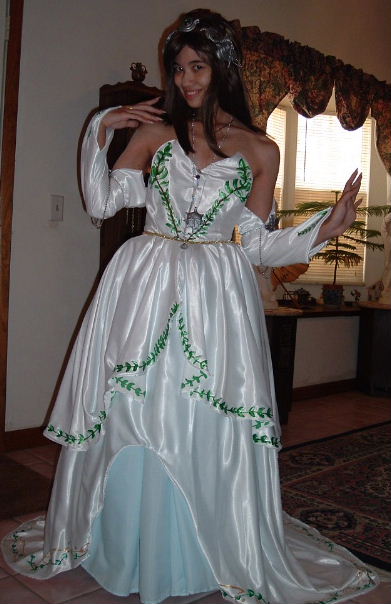 Princess Garnet from Final Fantasy IX Costume
Regular Adult Sizes:
Includes:

White satin fully lined strapless dress, with sweetheart necklince, boned, and with handpainted leaves/vines up bodice, gold braid trim around princess style waist band
White satin, fully gathered, overskirt with green leaves handpainted around hem; floor length white underskirt, with long 30" train in back, gold and green handpainted trim all around bottom hem
Pale blue, fully gathered underskirt, floor length with white tulle underneath for added fullness
Gold necklace with large teal pendant in center
Silver bead long necklace with pewter colored sculpted crystal - large
White satin arm covers, shirred at the elbow, open v-shape, and with a gold colored elastic at each hand, to place around your middle fingers. Green vines/leaves carefully handpainted on. 2 silver slender 12" chains dangle from elbow around the back, back to front of elbow.
Silver "tiara" headband, very detailed, handsculpted and painted a pewter color. Large teal faux jewel in center. 2 silver slender chains drape around back of head. Very pretty!
Gold hairband with "stick" through center
*White/pewter princess style high heels
(*only if ordering complete costume ensemble)
~~~~~~~~~~~~~~~~~~~~~~~~~~
Garnet's dark brown long ponytailed wig available for additional $55.00