Kefka Costume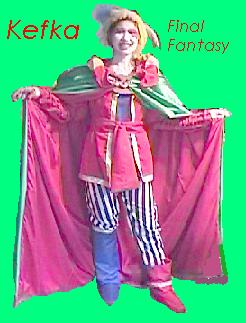 Kefka Costume
Regular Adult Sizes:
Includes:

Red and green full reversible cape, gold tassels and yellow satin trim hanging all around the bottom, and with a "tubular" wired red and yellow striped collar. Held together with a golden amberish large clasp, with faux jewels around the clasp and in its center.
Red crinkled head piece with 4 REAL ostrich feathers-one aqua, one purple, one blue and one yellow HUGE and GORGEOUS
Black and white striped pants, slightly baggy
Blue inner shirt with maroon diamonds etched all over the front
Red hanging belt with holder for sword
Red overjacket, with black lace at collar, completely trimmed in yellow satin, with HUGE puffed sleeves at top, etched with maroon round circles on the puffs, and with slender long sleeves, maroon and red stripes. Trimmed with yellow satin at cuffs. GORGEOUS!!
*One red ankle boot with yellow tie and one blue knee high boot, with yellow trim at top
~~~~~~~~~~~~~~~~~~~~~~~~~~~~~~~~~~
Yellow high ponytail wig (not shown) available for additional $80.00 US dollars
Please click on Susan to return to the Main Menu: