Movie Rose Bride Himemiya Anthy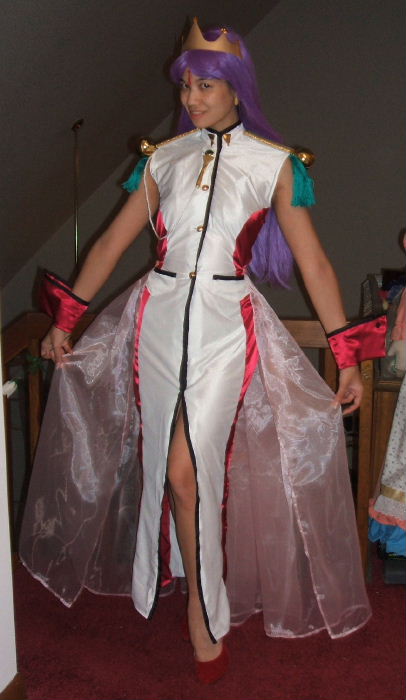 Latter 5 photos courtesy of Michiru K.! Doumo arigatou, Michiru san!!!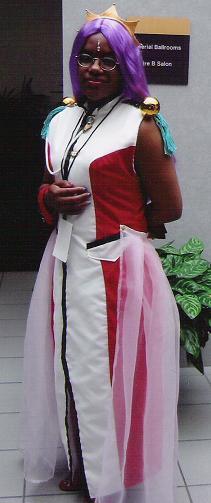 Last photo courtesy of Tyia S.! Thanks so much, Tyia san!!!

Rose Bride Himemiya Anthy Movie Costume
Regular Adult Sizes:
Includes:
Rose Bride red/white floor length gown with black buttons, teal large crest ot throat, black satin trim, white rope cord attached to teal shoulder braids attached to golden ball epaulettes on each shoulder
Red interfaced and lined wrist cuffs with black trim and buttoms
Pale pink organza flowing wraparound floor length skirt/cape
Golden 5 point crown
Pair of tear drop white large earrings, clip or pierced
Red faux crystal with dangling teardrop piece for forehead
White/Red satin rose accessory
*Black or red high heeled pumps
*Only if ordering complete costume ensemble with shoes
~~~~~~~~~~~~~~~~~~~~~~~~~~~~~~~~~~~~~~~~~~~~~~~~~~~~~~~~
Medium/dark purple 30" long wig with bangs available for additional $40.00.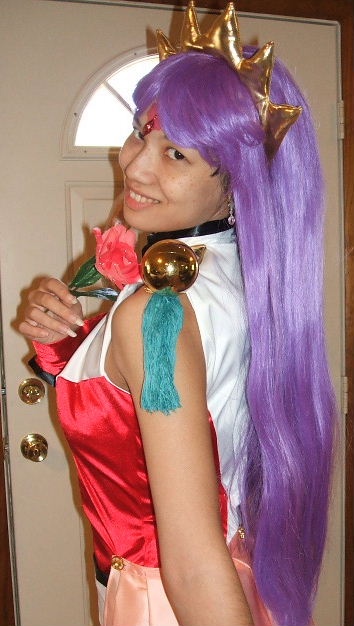 ~~~~~~~~~~~~~~~~~~~~~~~~~~~~~~~~~~~~~~~~~~~~
Medium/dark purple 4.5' long wig with bangs available for additional $80.00 (Not shown)