Bloodberry Costume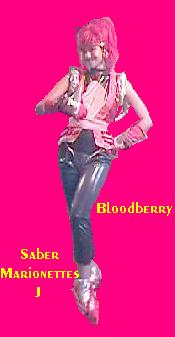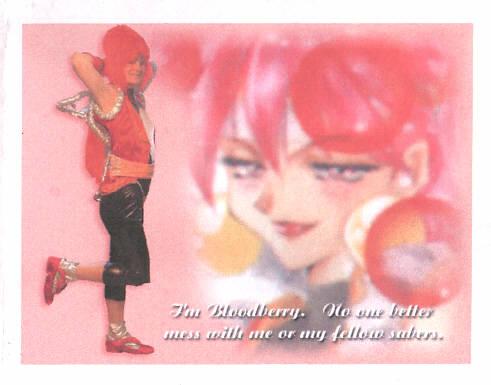 Latter photo courtesy of Jill-chan! Sugoi yo ne? Kirei!! Doumo arigatou Jill-san!!

Bloodberry Costume from Saber Marionettes J
Adult Regular Sizes:
Includes:
Red satin jacket with orange wide trim all around and silver trimmed, puffed and designed sleeves
Orange wide belt
Black shiny leotard with orange design in front and silver trim around crotch and leg openings
Black shiny capri style tight pants
Silver huge puffed, designed and wired back "bow"
Golden "ball" earrings - large- pierced or clip
Pair of fingerless gloves, with silver "spikes" armor on each handtop and brown belts at each wrist
Black bandanna
Red hairtie
*red shoes with silver puffed decor
*Only if purchasing the costume ensemble with boots included
~~~~~~~~~~~~~~~~~~~~~~~~~~~~~~~~~~~~~~~~~
4.5' long red high ponytail wig available for additional $95.00

Please click on Susan to return to the Main Menu: