Suzaku no Miko from Fushigi Yuugi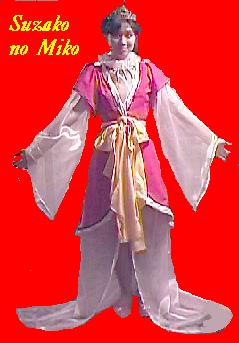 Please click on the icons below to view enlarged photos of the costume. ^_^
Latter two photos courtesy of Becky C. Thanks so very much Becky san!!!! Sugoi yo!!!

Suzaku no Miko from Fushigi Yuugi Costume
Regular Adult Sizes:
Includes:
Red outer robe, with contours and vshapes, shirred sleeves and trimmed in white and black/brown
Pale pink chiffon or organza inner "dress" with puffed shirred collar, long draping sleeves and a long train skirt, slit up the front.
Black necklace, with three lime green "claws" and various orange/black/purple beads, very accurate to Miaka's
Golden crown with red/pink ribbons streaming down from it, black large center faux jewel and red faux jewels encrusted
Three golden "anklet" bracelets
Four golden bracelets
*Red slipper type shoes with gold trim in front
~~~~~~~~~~~~~~~~~~~~~~~~~~~~~~~~~~~~~~~
Suzaku no Miko/Miaka's upswept Wig available (not shown) in light medium auburn brown for additional $70.00

Please click on Susan to return to the Main Menu: